Since finding a new home in the WWE after years of absence, the New Age Outlaws have rekindled the fans love for their anti-authority antics and reinvigorated the true meaning of D-Generation X. However, they recently betrayed CM Punk and walked out on him in the middle of a tag team match with The Shield. While they claim they are not in cahoots with COO and fellow D-Generation X member Triple H, all arrows seem to point in that direction. In the meantime, modern day fans get to enjoy an Attitude Era staple that hasn't changed much since it's original run, the tag team of the New Age Outlaws. As the Outlaws continue to make their presence felt, their Mattel WWE figures add new depth to the rosters of wrestling figure collectors who love mixing the 'old' with the 'new.'
Road Dogg Jesse James was released first in Mattel WWE Elite 26, complete with hat and two D-Generation X style shirts. His 'shake, rattle and roll' finish can be re-enacted and he can be posed like a true degenerate. Welcome to the Dogg house takes on entirely new meaning with such a detailed figure.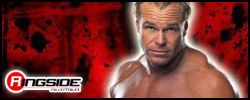 Road Dogg's partner in crime, the 'Bad Ass' Billy Gunn has yet to be put on display by Mattel. Speculation runs rampant as to which outfit would best suit Mr. Ass, but the possibilities are endless. The most likely choices are either green with lips featured or pink with lips featured on the 'rear' and front. Billy Gunn looks almost exactly the same as he did during the Attitude Era, so fitting him in with the rest of your Mattel WWE figures should be no problem.
It is unknown whether or not DX has a corporate agenda, but after their actions against CM Punk on RAW it can only be assumed that even D-Generation X will do what's 'best for business.'
To see all Mattel WWE Elite figures available, click here!