Whether you watched them wow the world at a WWE live event, on television or even used them in WrestleMania 2000 and No Mercy for the N64, the Hardy Boyz are without a doubt a cornerstone of wrestling's beloved and very much missed 'Attitude Era'. The long awaited immortalization of their look from this era will finally arrive with the Ringside Collectibles Exclusive Mattel WWE Hardy Boyz Elite 2-Pack!
Matt Hardy and Jeff Hardy will both come with their attire they wore when teaming with Gangrel. It was at this time that they became break out stars, winning the 'Terri Invitational' and defeating Gangrel's former proteges in Edge and Christian. Matt's hair will be featured in front of his face just like back in the day and Jeff will have the wild scowl he used to regularly sport. The team will come with removable fabric shirts, chains around their necks and WWE Tag Team Championship accessories! These are not only the definitive versions of the Hardy Boyz, they are a must have for any fan of the Attitude Era. Check out a preview image below and pre-order before they are sold out!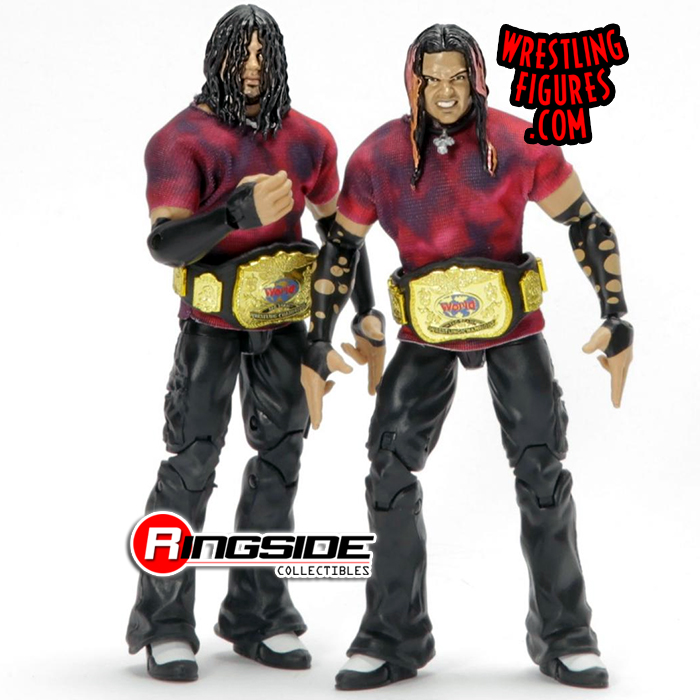 To see all Mattel WWE Jeff Hardy items available click here!
To see all Mattel WWE Matt Hardy items available click here!