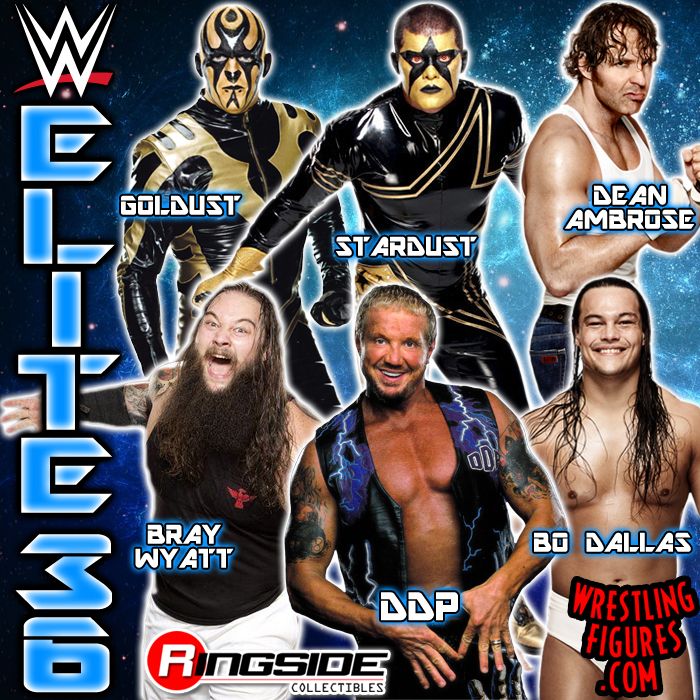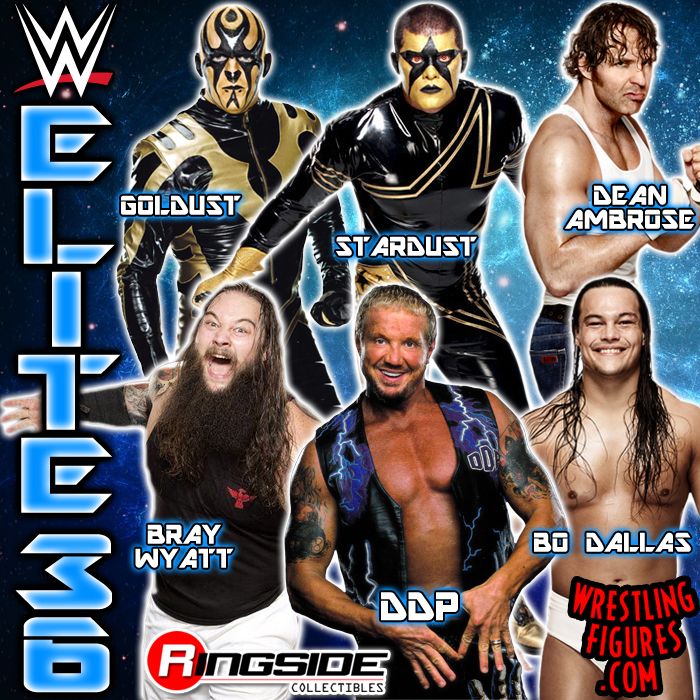 The latest Mattel WWE Elite lineup has finally been announced! The extra detailed, articulated and premium Mattel WWE wrestling figure set marches on as likely the most popular Mattel WWE figure line. The Mattel WWE Elite 36 lineup includes:
Bray Wyatt
Diamond Dallas Page
Bo Dallas
Goldust
Dean Ambrose
Stardust
Bray Wyatt has cemented himself as WWE's 'New Face of Fear' and looks to continue that frightful trend in his latest Mattel WWE offering. As Wyatt gets more aggressive, so does his look so it's extremely likely we'll see the darker, grittier Bray Wyatt we've been seeing on WWE TV.
The legendary founder of DDP Yoga and former WCW World Champion Diamond Dallas Page returns to the Mattel WWE figure collection with his first time in the main Elite line! Fans are hoping for either a classic, edgy WCW World Champion look or a throwback to his smiley, yoga inspired guru look from his WWE return in 2002.
Fans Bo-lieve in the first Mattel WWE Elite Bo Dallas figure, coming to the line with a smile and a dream. He'll certainly need a microphone to speak out to all his Bolievers, but this Bo could also possibly come with a t-shirt bearing his signature catch phrase.
Goldust is no longer just a bizarre staple of the WWE, but looks to be getting better and better as an in-ring performer with age. The shiniest, strangest fine wine that the WWE locker room has ever seen, his elaborate face paint is not just exciting for Mattel to do, but exciting for fans who love Goldust's unique look and what it has to offer.
The unstable one, Dean Ambrose has been unleashed since being turned on by his Shield brethren Seth Rollins. Now sporting a street fight ready, rough look, this will be the first time that the new, loose-cannon version of Ambrose has made his way to the Mattel WWE Elite line. It's likely that this new Dean Ambrose will sport a white or black tank top and signature jeans. Whichever color he ends up sporting, he'll definitely be ready to fight.
When Cody Rhodes finally broke out of his shell, he joined his brother Goldust a the equally strange Stardust in search of the 'cosmic key.' Fans may not always understand what Stardust is searching for, or what his motives are, but they definitely can't help but be enamored by his sparking demeanor and glowing eyes. Stardust has sported many different colors since emerging from the depths of the universe, but this Mattel WWE Elite Stardust will likely be the first to showcase his original gold and black look in Elite form.
To see all Mattel WWE Goldust items available click here!
To see all Mattel WWE Stardust items available click here!
To see all Mattel WWE Dean Ambrose items available click here!
To see all Mattel WWE Bray Wyatt items available click here!
To see all Mattel WWE Bo Dallas items available click here!
To see all Mattel WWE Diamond Dallas Page items available click here!