The WWE Royal Rumble is always a massive event and the inclusion of 30 WWE Superstars always leaves room for entrants either returning to the WWE or showing up for one final shot at gaining WWE glory and main eventing WrestleMania. The 2014 Royal Rumble has offered very few hints as to what possible Superstars from wrestling past could show up, but the possibility of inactive WWE Superstars returning at the event is higher than usual. Here are four WWE Superstars in Mattel WWE form ready to make a big splash and come back.
WWE Superstar Sheamus has been inactive since the fall, out with an injury and missing out on the entire authority resistance, WWE World Heavyweight Championship unification and more changes to the landscape of the WWE Universe. Sheamus' red hair is on fire in this Mattel WWE Elite 25 figure, complete with removable silver chain, Celtic Cross shirt, and silver knee pads, boots and trunks. Sheamus could easily show up at the 2014 Royal Rumble and go on to main event WrestleMania. He is the most likely candidate as he has been absent for the longest amount of time.
Chris Jericho has been absent for a long time, but his presence is still felt and he is constantly asked in his life on the road with his band Fozzy about a potential WWE return. Since he surprised everyone at the 2013 Royal Rumble (which this Mattel WWE Series 38 figure is based on the time directly after), it would come as another shock to the WWE Universe for him to do the same thing two years in a row. He is another candidate to face the WWE World Heavyweight Champion due to his experience both at WrestleMania, and making Royal Rumble returns.
Captain Charisma has been plagued with bad luck and injuries since finally becoming a World Champion in 2011. His latest injury was a recurrent concussion, causing all sorts of terrible symptoms and worrying the WWE doctors as to his safety. He showed up in the WWE at the Slammy Awards, letting the WWE Universe know he had new inspiration as a proud father. He could easily take the inspiration to survive in the Royal Rumble and go on to by the WWE World Heavyweight Champion and cementing his place in WWE history forever. His latest Mattel WWE Series 36 figure includes green tights and has a determined, angry headsculpt reminiscent of his World Heavyweight Championship run.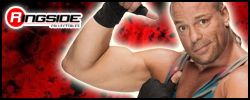 Rob Van Dam has been the life of the WWE party since returning at the 2013 Money In The Bank. He has fought for World Champion gold and showed that he can be a contender. No stranger to surprise Royal Rumble entrances, The Whole F'n Show could make another 'one of a kind' appearance in the 2014 Royal Rumble. His Mattel WWE Elite 27 has yet to be revealed, but when it is, it will invoke as much as a surprise as a Royal Rumble 2014 return would.
To see all the best selling Mattel WWE items available click
here
!