Two debut Mattel WWE figures have made a major impact for wrestling action figure fans. Wyatt Family member Braun Strowman is one of the most sought after big men in ages, as he debuts in Mattel WWE Series 64. Also debuting in Series 64 is the always smiling, incredibly athletic Apollo Crews. Despite their explosive debut figures, these two are already causing speculation as to what their WWE Elite figures will entail…and when they will show up!
Confirmed for Elite 44, Braun Strowman gets an elite treatment that's fit for his incredible size and odd style. While this figure has a similar look to his Series 64 figure, it has added elite articulation, complete with accurate tattoos. His black tanktop and brown ring pants make up his in-ring outfit, and he even includes a lamb mask accessory. This mask is a jet black, just like the one the real Braun Strowman sports.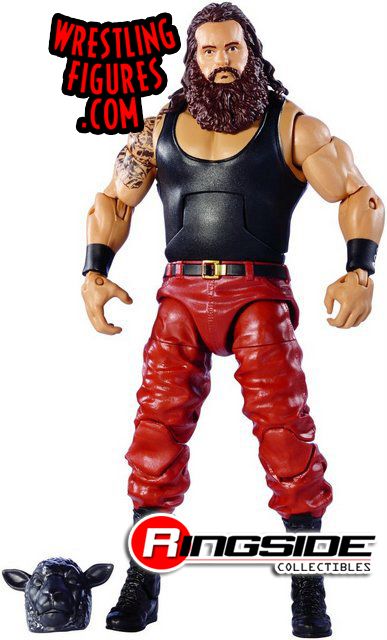 What fans still wonder about is what an elite Apollo Crews will look like. It's likely that his winning smile will be included, so his head sculpt either won't change much, or will have an even wider smile than before. The exciting part is that Apollo Crews has sported all sorts of different color ring trunks between his time in NXT and his time on the WWE main roster. These could be adapted at any time. What wrestling figure fans will look forward to the most is the elite articulation. Apollo Crews will now have a figure that can do all the amazing moves that his real life counterpart is capable of, and will look just like him.
To see all Mattel WWE Apollo Crews items available click here!
To see all Mattel WWE Braun Strowman items available click here!