When playing with wrestling action figures, many collectors and fans alike envision a massive arena where they can act out the memorable matches they see on a weekly basis and even matches they see when attending live events. There are now multiple options in building these playsets for wrestling action figures, thanks to Ringside Collectibles exclusive accessories and Wicked Cool Toys playsets.
The steps have been taken towards that larger-than-life style of play with the Wicked Cool Toys WWE Authentic Scale Ring. This ring, wildly popular and a huge success, has been perfect for play with all wrestling action figures. A new, improved, exclusive version will now make its' way to Ringside Collectibles with three unique ring skirts. One will be designed after the RAW ring skirt, another after Smackdown, and an additional version based off of the WrestleMania 31 ring skirt.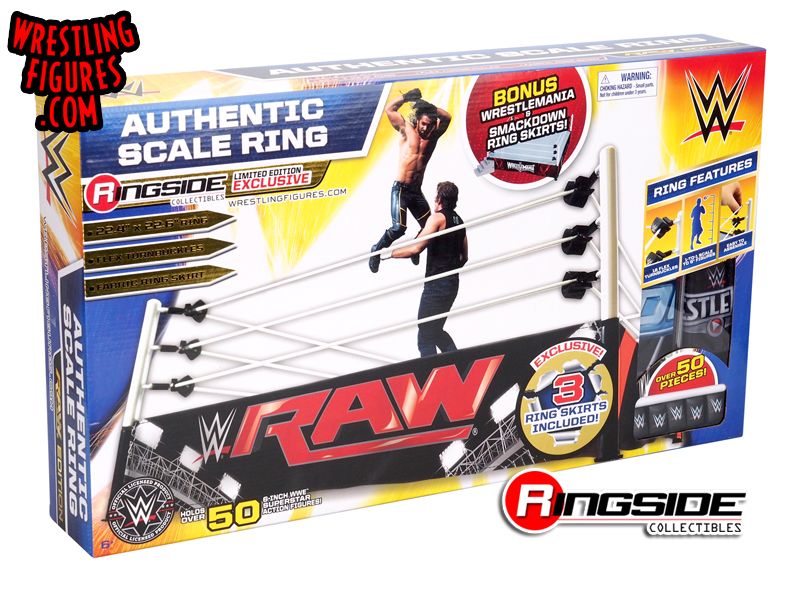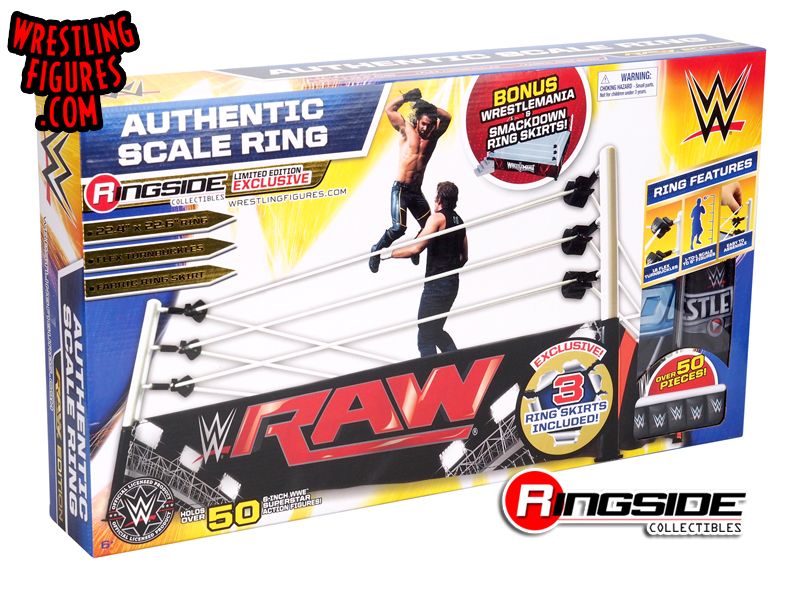 Next up, building your arena has taken a level of accuracy like never before with the Ringside Collectibles Exclusive 27 Piece Ultimate Wrestling Barricade Playset. Ever seen the way the ring is barricaded from the fans on TV? Now your ring setup can be enclosed in the exact same way, keeping the action inside…or outside, if things get that hardcore…your home made arena! With 27 pieces and the possibility of adding on additional pieces and even a floor mat, building a place for your wrestling matches to take place has never been easier, or so filled with possibilities.
To complete the look, it's of course extremely important to have a place for your commentators to sit, and underneath the ring, accessories to take your matches to the next level. The Ringside Collectibles Exclusive Commentator's Playset, Ring Steps, Chairs, Ultimate Tables and even Ultimate Ladder and Table Playsets add everything you could possibly need to expand your match types. Setting up your ring completely with the addition of these items creates a setup unlike anything your wrestling action figures have stepped into before!
Once your setup is complete, have matches with high stakes, low stakes or even legendary circumstances all in the comfort of your own home.
To see all wrestling rings and playsets available click here!
To see all Ringside Collectibles Exclusive Accessories available click here!