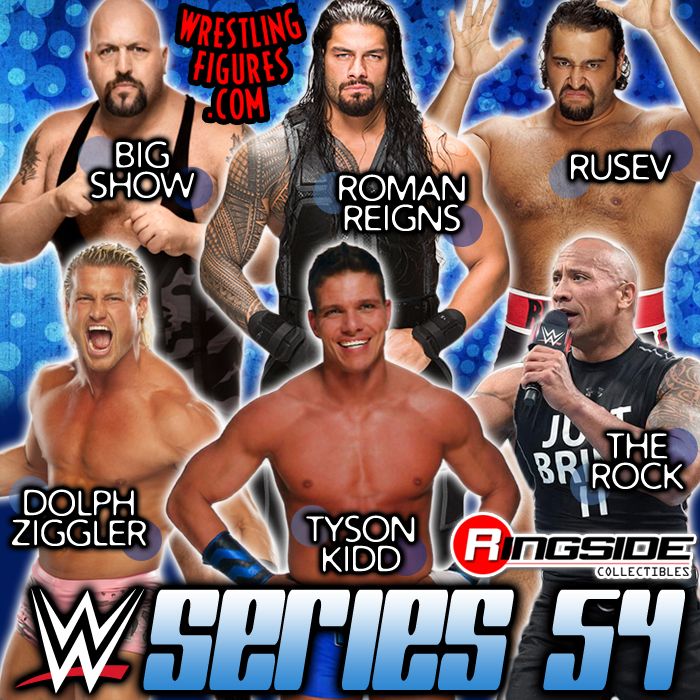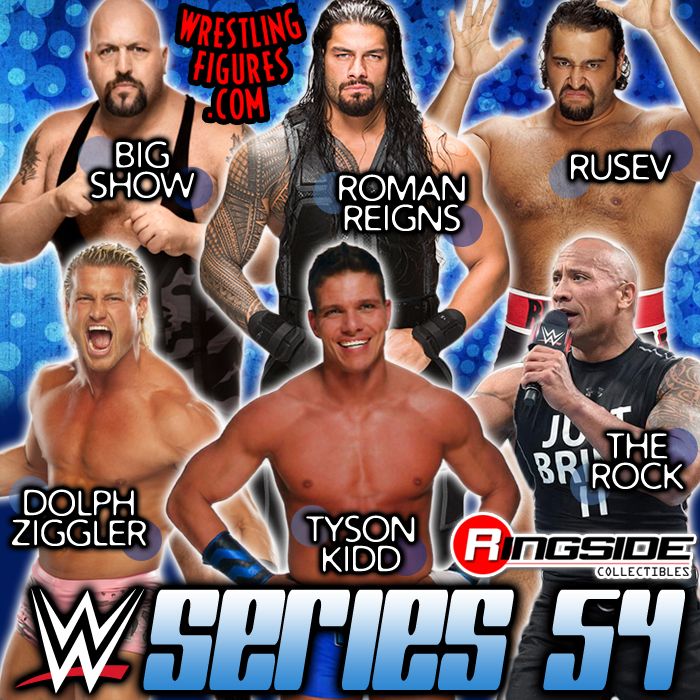 Heads up wrestling figure fans, the Mattel WWE Series 54 lineup has been officially announced! It includes plenty of big name superstars and notable up and comers!
Mattel WWE Series 54 includes:
Roman Reigns
Tyson Kidd
The Rock
Big Show
Rusev
Dolph Ziggler
Since beginning to dominate the professional wrestling scene, Roman Reigns has quickly become a fan favorite, for better or for worse. He has continued to adopt new looks that are in the vein of his original 'Shield' style, but unique enough that fans have come to expect him to look differently. Likely, the Mattel WWE Series 54 Roman Reigns will feature a look more closely in line with his solo career as opposed to that as a member of The Shield.
The Rock is not only the biggest WWE Superstar to ever walk into an arena, he is now the biggest star on the planet. Since he still loves the WWE and professional wrestling, The Rock will appear as he pleases to close the mouths of the likes of the roody-poo candy asses that deserve it! In Mattel WWE Series 54, we will likely see a version of The Rock that reflects his surprise appearances, completely unexpected each and every time by the WWE Universe.
He is now here to stay, and Dolph Ziggler doesn't plan on doing anything short of spectacular has he continues to work hard in the WWE. After re-signing with the company, Dolph will now be able to push even harder to achieve his goals and prove that he is a WWE Superstar like no other, athletically and mentally. A new Mattel WWE Dolph Ziggler will definitely reflect his newfound intensity and transitioning style into one of the locker room's most talented veterans.
With a broken heart that he is more angry about than sad about, Rusev has had pretty tough luck since losing to John Cena. His ankle injury aside, he is still extremely aggressive and a forced to be reckoned with, despite his misfortune. In Mattel WWE Series 54, Rusev will likely show off a less confident and more uncontrollably angry side to take out his frustrations on his old flame and his new enemies.
Tyson Kidd is unfortunately out of the eye of the WWE Universe for the foreseeable future after suffering an injury and being forced into surgery. However, fans will finally get a figure treatment of the Dungeon graduate that better reflects his current surge as a tag team partner with Cesaro and the beau of Natalya. While they wait for his recovery to be completed, the WWE Universe can give Tyson Kidd a head start with his Mattel WWE Series 54 figure.
A mainstay like no other, the Big Show is still tremendously larger than life. Though he flip flops his allegiances more than a pancake these days, he can always be counted on for a devastating match and some explosive attacks with his WMD fists. In Mattel WWE Series 54, we may not know where Big Shows' loyalties lie, but we will definitely be treated to his latest look.
To see all Mattel WWE The Rock items available click here!
To see all Mattel WWE Rusev items available click here!
To see all Mattel WWE Tyson Kidd items available click here!
To see all Mattel WWE Roman Reigns items available click here!
To see all Mattel WWE Dolph Ziggler items available click here!
To see all Mattel WWE Big Show items available click here!