With the extreme popularity of the Mattel WWE Elite line of wrestling action figures, it came as a legendary, pleasant surprise that an additional set, Elite 47.5 has made its way into the rankings. Showing off some unique looks, amazing accessories and sought after names, this was a set no one saw coming and everyone was happy has arrived! Elite 47.5 includes:
Goldust
The Rock
Konnor
Viktor
Brian Pillman
Kane
One of the most memorable tag teams in recent history, The Ascension have climbed the ranks after debuting in NXT and making their way to the Smackdown roster. Finally, members Konnor and Viktor get a Mattel WWE Elite treatment with Elite articulation and accurate tattoos. Their chest pieces are included and removable and they have molded ring gear to create the most accurate versions of this duo yet.
Tearing through the Attitude Era and becoming the most famous and recognizable Superstar in the entire world was cake for The Rock. His stride was hit and is well represented here in his latest Elite. The People's Eyebrow is front and center and he has a removable shirt that looks just like the ones he used to wear to the ring back in the day!
A classic member of the WWE roster, Brian Pillman used to amaze with his high flying athletic skill and wild demeanor. He appears in this set with a removable shirts and a silver and black starred vest. With red and black trunks and a big smile, he's hopping back in the ring to battle!
After being controlled by the Authority, Kane's evil was locked up with a glass case. His latest Mattel WWE Elite figure will help people remember that for all time. With his classic, demonic ring gear, he also comes with a mask that is included in a glass case accessory. The mask can even be removed and placed on Kane's face!
Now one of the most legendary and memorable WWE Superstars of all time, Goldust was once so bizarre that the WWE Universe had no idea how to react to him other than with shock and awe! Goldust's debut look has been immortalized in Mattel WWE Elite 47.5, complete with removable wig and robe with detail like never before!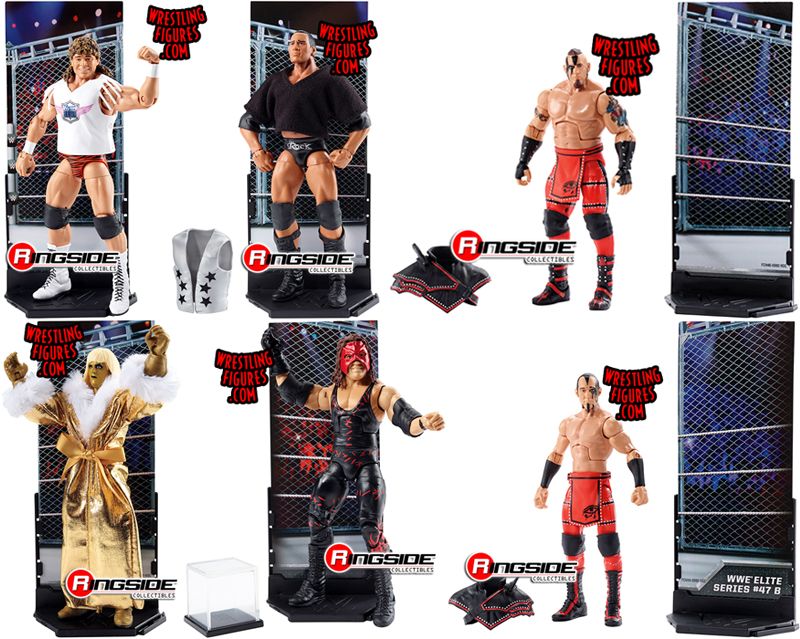 To see all Mattel WWE The Rock items click here!
To see all Mattel WWE Goldust items click here!
To see all Mattel WWE Konnor items click here!
To see all Mattel WWE Brian Pillman items click here!
To see all Mattel WWE Kane items click here!
To see all Mattel WWE Viktor items click here!