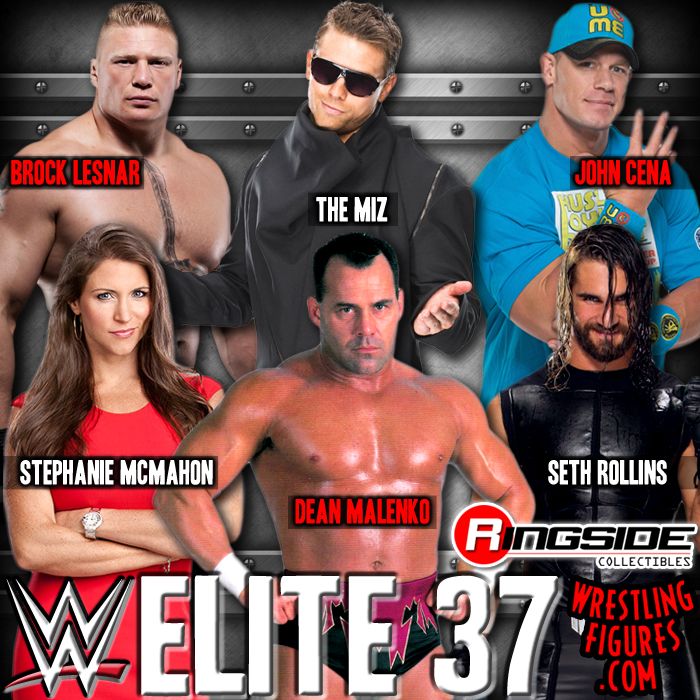 Fans are rejoicing as the Mattel WWE Elite Series 37 has finally been placed for pre-order at Ringside Collectibles. With a few of the figures already seen by the public, it looks to be one of the most popular series in recent memory. Mattel WWE Elite 37 includes:
Stephanie McMahon
John Cena
Dean Malenko
The Miz
Brock Lesnar
Seth Rollins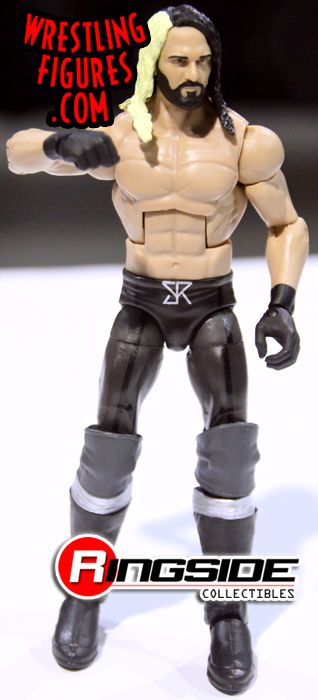 – The current and reigning WWE Champion Seth Rollins gets his first Mattel WWE Elite with his new, solo career gear. With this early look at the figure, it's clear that Rollins will sport a new headscan to go along with his updated attire. Fans are also expecting the possibility of a new WWE World Heavyweight Championship and even the Money in the Bank briefcase he used to cash in on Brock Lesnar at WrestleMania.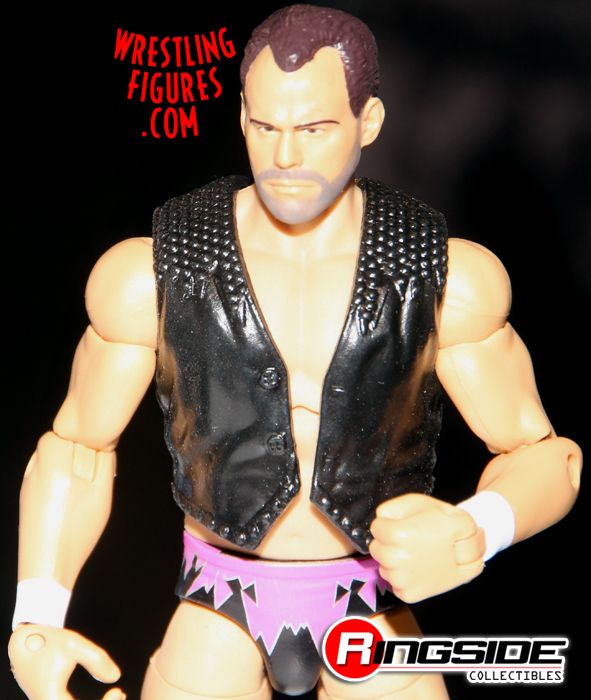 – The legendary WCW staple and former WWE Superstar member of The Radicalz, The Man of 1000 Holds Dean Malenko finally gets his first Mattel WWE treatment and his first wrestling figure treatment in well over half a decade. Sporting his vest and '1000' trunks, he's ready to administer submission moves and bring wrestling ability to action figure collections like never before. A Mattel WWE Dean Malenko is an extremely important part of building up a WCW locker room.
– The 'Billion Dollar Princess' has been a featured member of WWE television since the Attitude Era began over ten years ago. Since then, fans have learned to despise Stephanie McMahon, the heir apparent to the WWE thrown. A Mattel WWE Elite Stephanie McMahon could possibly come in wrestling attire, making her match ready for the likes of The Bella Twins or any other roster member in the way of one of the most powerful women in the world.
– John Cena has had a rough patch as of late, losing to the likes of Kevin Owens. But he has stood tall as the WWE United States Champion and made sure to wear the championship with pride and honor. His latest Mattel WWE Elite figure could truly reflect his historic United States Championship title run, despite the frustrations he has had throughout.
– Since losing his 'stunt double' Damien Mizdow, The Miz has become even more arrogant and living up to his 'Hollywood' moniker. The latest Mattel WWE Elite Miz would likely reflect that, with a new, wavy hairstyle and possibly a scarf or sunglasses. Either way, he will look more like a star than any in the WWE to come before him.
– Waiting in the shadows for when he feels he'd like to return to the WWE, Brock Lesnar is ready and willing to destroy everything in his path. Likely still reeling and angry about his surprise loss to Seth Rollins at WrestleMania, Brock Lesnar is going to make as much an impact in real life as his latest Mattel WWE Elite figure will. With updated fight shorts and likely an extremely intense headsculpt, Brock Lesnar can reclaim his 'baddest man on the planet' title.
To see all Mattel WWE Dean Malenko items available click here!
To see all Mattel WWE John Cena items available click here!
To see all Mattel WWE Stephanie McMahon items available click here!
To see all Mattel WWE Seth Rollins items available click here!
To see all Mattel WWE Brock Lesnar items available click here!
To see all Mattel WWE The Miz items available click here!