Fans simply cannot wait for the WrestleMania 34 main event that will feature veteran standout AJ Styles facing the self proclaimed 'KING' of Strong Style Shinsuke Nakamura. Until then, there are two Mattel WWE Elite figures that are perfect for crafting a debut, wrestling figure match-up between these two WWE Superstars!
The inevitable day will come where Styles and Nakamura will face off in a Mattel WWE Battle Packs set, but wrestling figure collectors in the meantime can get their hands of premium versions of both in the Mattel WWE Elite set. The staple Mattel WWE AJ Styles comes in Elite 47: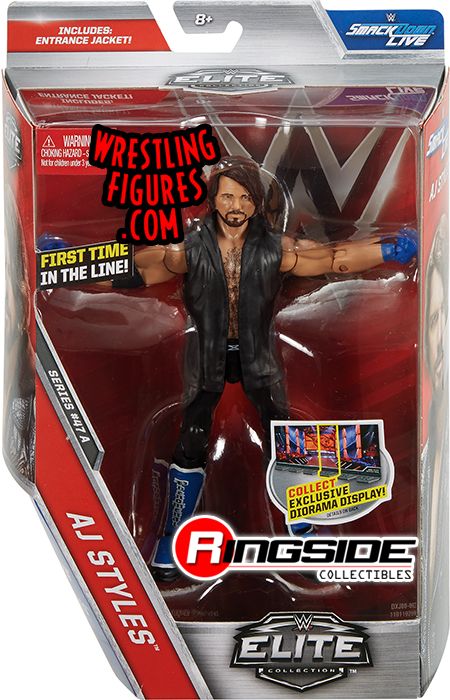 This AJ Styles commemorates his dynamite debut at the 2016 Royal Rumble. It has only been uphill from there for The Phenomenal one so it's a perfect opportunity and figure to have a fresh, energy-filled first matchup on the grandest stage with a major opponent. Including a vest and classic 'Phenomenal One' boots, it's a definitive version of a current staple on the SmackDown Live! roster.
After completely taking over the NXT division, Shinsuke Nakamura has wowed the WWE Universe far and wide since joining the SmackDown LIVE! roster and winning the 2017 Royal Rumble. He may be on a collision course with AJ Styles, but Nakamura's skills and prowess are showcased on a weekly basis as he comes to the ring, violins sounding, confident and ready for a strong, hard fought battle. The Mattel WWE Elite 57 version of the former NJPW standout carries a 'Strong Style Has Arrived' shirt and Elite flexibility as he debuts in the line 10 sets after the debut of Styles. With his future still ahead of him as he catches up, this is a perfectly definitive version of the superstar so many fans can't believe is actually a part of the talented roster!
The winner at WrestleMania 34 remains to be seen, but in the meantime fans can duke it out and decide for themselves who walks out as WWE Champion!
To see all Mattel WWE AJ Styles items available click here!
To see all Mattel WWE Shinsuke Nakamura items available click here!