Any WWE wrestling fan watching from the years of 1998-2002 remember the Attitude Era. One of the most popular aspects of the Attitude Era was the Hardcore Championship and its' '24/7 rule!' Instated during the height of the championship's popularity, the winner had to defend the title 24 hours a day and seven days a week from any oncoming challengers! Here are the Mattel WWE figures you need to have your own WWE Hardcore Championship wrestling figure circuit:
Kane held the Hardcore Championship multiple times, so his Ringside Collectibles Exclusive includes the Hardcore Championship. The belt will get your hardcore matches started.
The Road Dogg defeated Big Boss Man during a very dark time to become Hardcore Champion. Although he didn't hold the title for long, it cemented his place in hardcore action by proving he could beat a former world title contender if the stakes were right.
Christian knew that the Hardcore Championship totally reeked of awesomeness so he snuck around and weaseled his way into multiple wins of the battered gold. Even defeating Molly Holly at WrestleMania, he took heavy advantage of the 24/7 rule.
Big Show captured The Hardcore Championship three times during his original WWE tenure, making a massive impact after coming over from WCW. The Giant figure may not be the exact era, but it is very close and with an nWo shirt, it would add extra spice to those wanting to recreate a WCW invasion! If you want a more accurate style, though, you could shoot for Big Show's Mattel WWE Pay Per View 11 figure.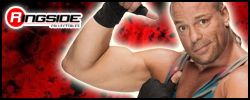 The Mattel WWE Elite 27 Rob Van Dam figure will provide the ECW legend's hardcore presence for any Hardcore Championship match. He unified the title with the Intercontinental Championship, so it may have ended with RVD, but it can go on forever with your Mattel WWE figures.
Check out all classic-style Mattel WWE figures
here
!